About Fusco Foods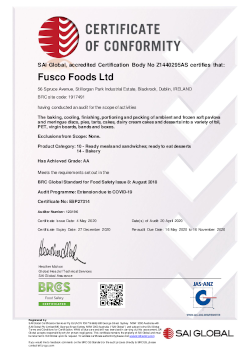 The Fusco name has been synonymous with cakes and desserts for over 50 years. In 2005 Fusco Foods purchased Connell's Irish Family Bakeries, thus creating Fusco Connell Foods, an organisation with two major constituent parts, a food service business and a supermarket multiple / retail food manufacturer, located in Stillorgan Industrial Park, from where all manufacture takes place.
Fusco Foods produces a wide range of food service and retail products. Some of the most popular lines supplied throughout Ireland and parts of the UK, would be our Death by Chocolate (using Belgian Couverture), Apple Pies (using Armagh Bramley Apples), Cheesecakes (using full fat cream cheese) and delicious Meringue Roulades in various flavours.
Fusco Foods is delighted to announce that we have received a BRC certification for the production of bakery and ready to eat desserts (with no exclusions), involving both cream and non-cream products (download BRC cert here).